AFL's radical plan to accelerate season restart during Tokyo Olympics scheduled dates
Veteran AFL columnist Caroline Wilson has revealed a plan which would see the AFL re-starting it's season when the Tokyo Olympics were originally set to be scheduled.
According to Wilson, with the Olympics postponed until 2021, Channel Seven, which was set to broadcast the Olympic Games, are hoping to fill those slots with an AFL schedule that could see games played daily.
"My understanding is, this is a real plan now, to run football if possible every single day over the Olympic schedule," Wilson told Footy Classified.
"It'll certainly happen when you bring Fox Footy into play. Games will be played in the day and at night. Friday night, Saturday night, Sunday nights as well as Saturday afternoon and Sunday afternoon.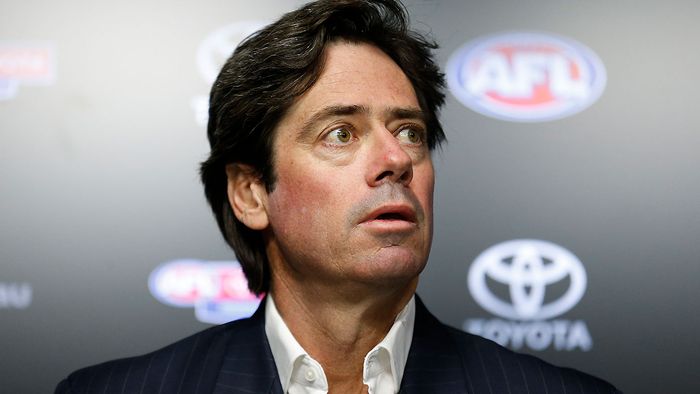 "Then of course when the paralympics start, there will be more footy-free days."
The Olympic Games were originally scheduled to start on July 24, and Wilson said that neither Seven or Fox Footy expects the AFL to restart it's season prior to that date.
"I think (a July 24 start) would suit them down to the ground. Maybe July 31 is the absolute latest, but I'm looking at July 24," she said.
"Channel Seven and Fox are already talking at length with the AFL about how few possible technicians they could have in their hubs to broadcast the game.
"Five cameras would be the absolute minimum, what they use in pre-season games and AFLW. No commentators, they would be calling games from the tube."
AFL legend Matthew Lloyd was full of praise for the idea, suggesting that it was important for the league to main the excitement around the game with no fans in stadiums.
"It doesn't matter how we get it back. When we get it back we've just got to make it as exciting as we possibly can," he said.
"If we can't have (the fans) there, how can we excite them, and seven days a week would be an absolute footy feast."